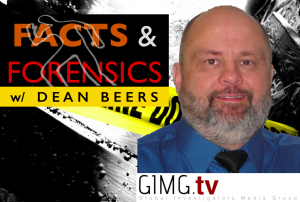 News of Interest
Dean discusses legislative news from the National Council of Investigation & Security Services
NCISS Regulatory Alert: Drone Registry in the Works – http://conta.cc/1jGwcXN
Legislative Call to Action – Support Workplace Fairness – http://conta.cc/1l2VY8Q  
Dean also discusses his latest article, Direct and Circumstantial Evidence in Forensics – www.deathcasereview.com/uploads/8/7/3/8/8738199/beers_-_tti_evidence_in_forensics_july_2015.pdf
Conversations with Karen
This month Karen joins us to talk about a few hot topics in the news…
Medical Examiner Vindicated for Undetermined Manner of Death Pending Investigation
www.nbcnews.com/news/us-news/investigators-blast-coroners-comments-probe-illinois-cops-killing-n425446
If These Men Aren't Guilty, Why Can't They Go Free?
www.buzzfeed.com/melissasegura/officials-doubt-these-men-are-guilty-but-they-cant-go-free
Ineffective Assistance of Counsel
http://californiainnocenceproject.org/issues-we-face/ineffective-assistance-of-counsel
Identity Theft Victim Resources
http://www.pinow.com/articles/2138/identity-theft-victim-resources
Advising Clients Regarding Direct Contacts with Represented Persons
Recommended book – Code of Professional Conduct:  Standards & Ethics for the Investigative Profession (Kitty Hailey, CLI) – http://astore.amazon.com/assoinforeinv-20/detail/B0052G0MQY
Special Guest with Dean
Dean is joined by expert in blood spatter, Brad Perron, LPI, CCDI, CFSI.  Brad is a recognized expert in crime scenes and blood spatter, and is a faculty member and instructor with the Criminal Defense Investigator Training Council.  Here are books Brad talks about:
CRIMTECH
Investigative Support Specialist, Inc.
Criminal Defense Investigator Training Council
Address:  416 SE Balboa Ave., Ste. 2, Stuart, FL. 34994
Phone:  (772) 288-1485
Websites:  www.defenseinvestigator.com and www.bloodspatter.org and www.cditctraining.com
Email:  bradperron@gmail.com
* visit www.defenseinvestigator.com in 2016 for the June Certified Forensic Science Investigator (CFSI) week long training and certification!
Facts & Forensics Sponsors
Contact the show! – Associates@DeathCaseReview.com and www.DeathCaseReview.com or call (970) 480-7793