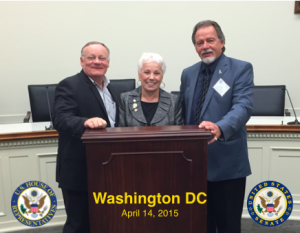 News from Associations

The National Council of Investigation & Security Services (www.NCISS.org) held its annual Hit the Hill the week of April 13th in Washington DC. Over 40 association leaders and members from around the country walked the halls of Capitol Hill to meet with Senators and Representatives to talk about key issues of our professions. The hot topic continued to be drone legislation. A sub-committee of the Senate Commerce Committee held a hearing on April 15th – and invited leaders of NCISS, including Board Chairman Bob Heales to testify. In addition, your host, Dean Beers, was appointed 1st Vice President and GIMG.tv found and host of PI InSight was appointed an At Large Direcor.
The National Association of Legal Investigators (www.NALI.com) will be holding its annual conference in history San Antonio TX the end of May. Dean arranged to have a county forensic pathologist and also a forensic anthropologist from a university body farm as speakers.
Effective June 1, 2015 Colorado requires licensing of private investigators!
In March we completed our application process for the mandatory Colorado Private Investigator License – effective June 01, 2015. We take a great amount of pride in doing so. If you are currently a practicing private investigator in Colorado, you must be licensed effective 06/01/2015 and it is important to get started now. Attorneys using the services of a private investigator in Colorado can only use a licensed private investigator to ensure integrity, as well as work-product and attorney-client confidentialities.
You can verify licensure, and download a current list of licensees, at https://www.colorado.gov/dora/licensing/Lookup/LicenseLookup.aspx
We are proud to be Level II Licensed Private Investigators. What is required?
— Be 21 years of age or older and a US citizen;
— Passing a jurisprudence exam on the rules, regulations and statutes of being a Colorado Licensed Private Investigator;
— Passing a Colorado and FBI fingerprint criminal background check;
— Securing a $10,000 surety bond for consumer protection; and
— Level I – No experience is required for this entry-level license; or
— Level II – Demonstrating 4,000 hours or greater of experience / education.
Learn more about our status, and download the Colorado Rules for Licensed Private Investigators, at http://www.coloradolicensedprivateinvestigators.com
Distance Learning
In March we launched our Ethics seminar as the first of our distance learning investigation video seminars at www.InvestigativeCourses.com. This month we launch our newest – Skip Tracing, Backgrounds and Assets & Liabilities. There are additional distance learning programs provided on the website. We are excited to present this new learning tool.
Conversations with Karen
The April show is dedicated to how important forensic investigations can be to civil, criminal and equivocal death investigations. Karen brings the issues of autopsy reports, nursing home abuse and deaths, and prosecutorial misconduct to the show for a very lively discussion. Karen uses actual case investigations and outcomes to demonstrate the importance of forensic investigations and legal investigators to their clients. An informative article, Reviewing and Comprehending Autopsy Reports, is available at http://www.deathcasereview.com/uploads/8/7/3/8/8738199/afi-llc_reviewing_and_comprehending_autopsy_reports.pdf
Show Topic Links
National Council of Investigation & Security Services (www.NCISS.org)
National Association of Legal Investigators (www.NALI.com)
Verify and learn about Colorado Private Investigator Licensure at https://www.colorado.gov/dora/licensing/Lookup/LicenseLookup.aspx and http://www.coloradolicensedprivateinvestigators.com
Facts & Forensics Sponsors
Death Investigations for Professional Investigators (distance learning) – www.MedicolegalDeathInvestigations.com
A Survivors' Guide to Understanding Death Investigations (book) – www.UnderstandingDeathInvestigations.com
Contact the show – Associates@DeathCaseReview.com and www.DeathCaseReview.com or call (970) 480-7793
Quint-Essential Qualities of a Professional Investigator – http://www.deathcasereview.com/1/post/2013/03/the-quint-essential-qualities-of-a-professional-investigator.html
NEW – On Demand Video Distance Learning at www.InvestigativeCourses.com with FREE Ethics and the Professional Investigator coming by the end of the month!
Contact the show! – Associates@DeathCaseReview.com and www.DeathCaseReview.com or call (970) 480-7793