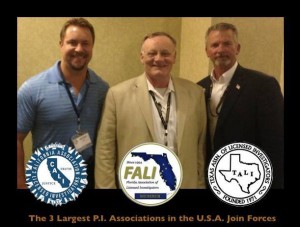 In this edition of PI InSight, Mark Gillespie and Michael Julian join your host Tim O'Rourke to discuss a range of topics.  Mark Gillespie is a 28 year veteran of Law Enforcement/Forensic Science and the owner of Gillespie Investigations in Austin, TX.  Mark is also the current President of the Texas Association of Licensed Investigators (TALI)
Michael Julian is the President/CEO of National Business Investigations based out of Riverside California.  Michael is a second generation investigator who succeeded his father who started NBI in 1967.   Michael is also the current President of California Association of Licensed Investigators (CALI).  
Mark, Michael and Tim also spend a few minutes discussing the benefits and mutual agreements regarding the agreement known as the "The Big 3", which is a reciprocal agreement between the three largest state investigator associations in the United States.
About the host: Tim O'Rourke is a Private Investigator for The Grafton Group based in Tampa, Florida. Tim is a Corporate Investigator for TGG which serves all of Florida and has reciprocity with many other states as licensed investigators.
The Grafton Group
3001 N Rocky Point Dr., E #200
Tampa, Florida 33607
(813)658-9438 or (727)648-3510
W: http://www.thegraftongroup.org